Blog Settings
11 October 2015

No comments
This area of settings allows you to enable some appearance elements (icons in posts) as much a social comments and social share buttons.
Show Type Post Icon(s)
Each Joomla article can have option to use Post formats it means use addcional illustration icon, which can show about what type of article (post) is that content.
Front-end

Back-end

Of course those icons from Post Format settings are based on FontAwesome typography.
Comments Settings
This build-in option adds IntenseDebate Comments system, Facebook comments and / or Disqus Comments to your site. All in one tool. You don't have to install any addcional plugin anymore to get this feature. Social allows your readers to log in via a preferred social network and add comment under article. All you have to do is choose and set correct Facebook Application ID, IntenseDebate Account or Disqus Username/Subdomain. Sorry, but right now you can use only one selected social comments system or disable it for all content.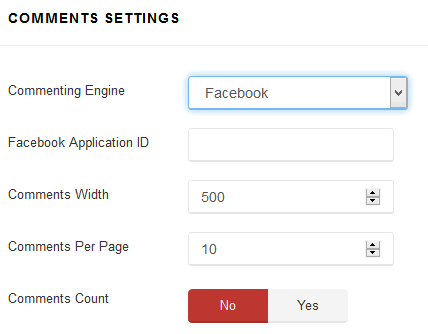 Social Share buttons
You can also enable Social Share buttons under each article. Current version have improved social share alignment. In future (upcoming) version we will add more social share buttons.