Menu Settings
11 October 2015

No comments
Setup Joomla Mega menu
Mega Menu is an easy to use menu tool for creating beautiful, customized menus for your site, also with modules inside. That also boosts SEO and user engagement. Here in template settings you have access to 4 options only, more advanced settings are "hidden" in Menu Manager inside each menu item – so please check also there.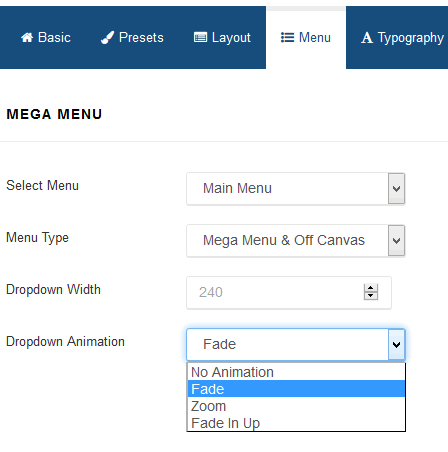 Select Menu
It allows you to choose menu from available in your system. If you're planning to build multilingual site in Joomla 3.4 – you have to create clone of current template for each addcional language and choose here a Main Menu for each of them.
Menu Type
By default there are enabled two separate menus: Mega Menu and Off Canvas Menu. You can use both or only of of them – as you want or need.

Off Canvas is indeed a external menu module – so if you want to use this area you have to create a menu module, set it properly.
Remember to choose offcanvas module position for them.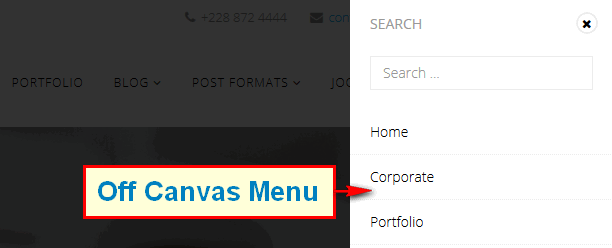 What is more important in this sidebar menu you can also publish not only menu modules but also for example Search module, it also have to had a offcanvas position chosen in Module Manager.

Dropdown Width
Dropdown Menu Width value would be to set it to the width of your submenu size content area. By default 240px.
Dropdown Animation
MegaMenu offer four transition options for your dropdown submenus:
Fade (default)
Zoom
Fade in Up
No Animation
This is the transition that occurs when the submenu is opened. To have the submenu appear with no transition, set this to None (No Animation).