Theme Details

Version: 1.0.10
Gantry 5 Framework: 5.5.17
Layout: Fully Responsive
Compatibility: WordPress 5.8 or higher
Released: January 28, 2022
Last Updated: November 22, 2023
Changelog: 1.0.10
One Changelog
1.0.10

# Back to top: Fix custom section id not being applied.
# Navbar: Fix icon/image icon not being applied to parent menu item (Extended style)
+ Navbar: Add the columns resize support for Extended style
^ Navbar: Implement Dropdown custom width for extended style (none sketch mode)
^ All Joomlead Pro particles 2.2.9 updated.
^ Updated Uikit css/js to 3.17.11

1.0.9

+ Navbar: New dialog feature.
# Navbar: Fix blank page if module id and custom html don't exist
^ All Joomlead Pro particles 2.2.8 included.
^ Updated Uikit css/js to 3.17.1

1.0.8

^ All Gantry5 particles updated to 2.2.6
^ Uikit Css/Js framework updated to 3.16.19
^ WordPress demo package updated

1.0.7

# Menu issue with PHP 8.1 fixed
^ Gantry 5 framework 5.5.16 updated

1.0.6

^ All particles updated to 2.2.5.
^ Uikit Css/Js framework updated to 3.16.6
^ WordPress demo package updated

1.0.5

^ All particles updated to 2.2.4.
# Navbar particle: Fix search query returns a 404 error page
^ Uikit Css/Js framework updated to 3.15.24
^ WordPress demo package updated

1.0.4

^ All particles updated to 2.2.3.
+ Option to disable Gantry 5 core js(front-end).
+ New Card Slider particle.
^ Improved particles accessibility
^ Uikit Css/Js framework updated to 3.15.10
^ WordPress demo package updated

1.0.3

^ All particles updated to 2.2.1.
^ Uikit Css/Js framework updated to 3.15
^ WordPress demo package updated
# Fix Dropdown width not being applied for default menu style

1.0.2

+ Added textdomain variable to theme context
# Fixed incorrect language code (#3029)
# Fixed loading default language file for nucleus
# Fixed CSS not to include schema and domain name
^ Gantry5 framework 5.5.13 updated.
^ All Pro particles updated.
^ Uikit Css/Js framework updated to 3.14.0

1.0.1

# Fix text gradient displays on Safari
# Improved menu item color on transparent mode(Light mode)
+ Added link/link hover for Copyright/Footer/Off-canvas section
# Particles updated and know bugs fixes
+ Added Visibility option for block variations
+ Added inverse color option for section variations

1.0.0

Released the initial version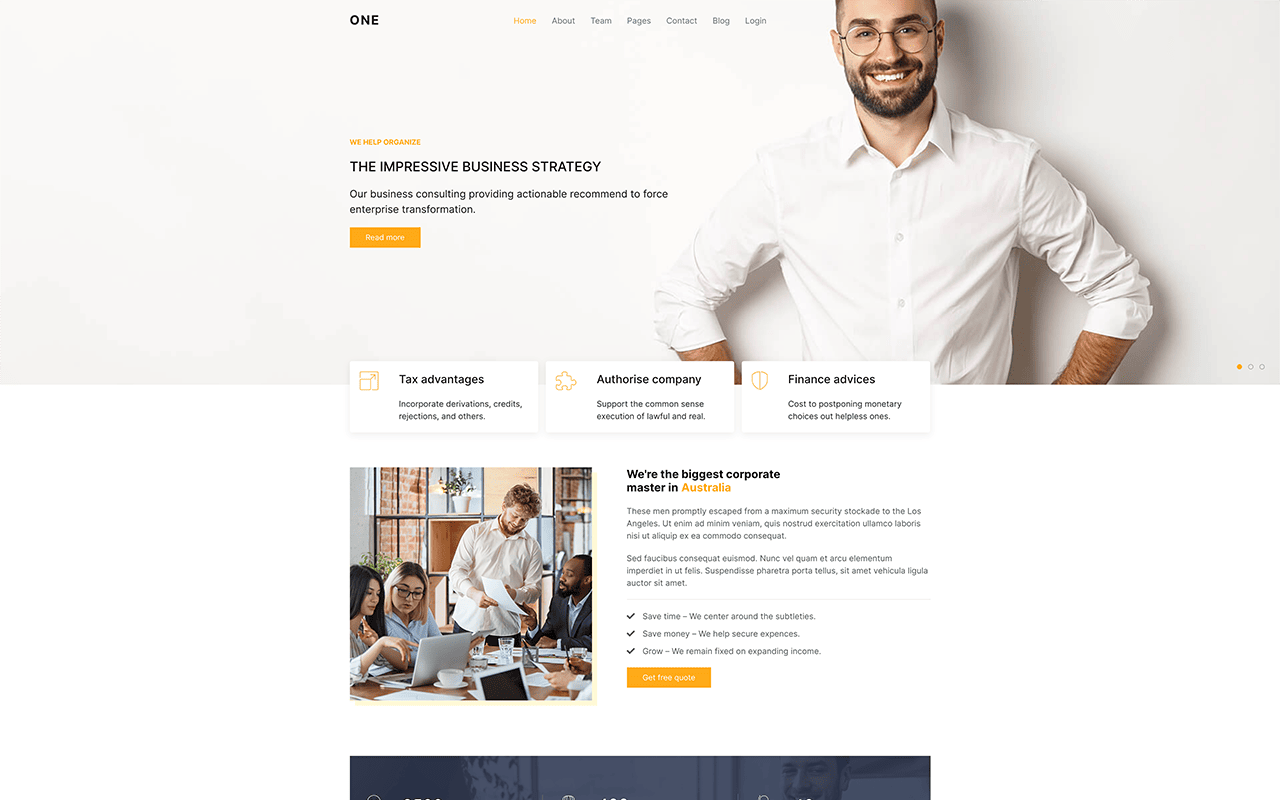 ONE is a perfect starting point for your next WordPress! project. Simple, clean and flexible for business and corporate. This business WordPress theme is designed so it is easy to use. One is based on Gantry 5 framework.
Based on Gantry 5 & designed with great attention to details, flexibility and performance. It is ultra professional, smooth and sleek, with a clean modern layout. One takes full advantage of Gantry's new inheritance system, making it easier than ever to configure and manage your website through synced particles, atoms, sections, and layouts. Save time by using inheritance to avoid repetitive changes!
One WordPress theme features:
Built on Gantry 5 Framework
All PRO Gantry5 Particles and Atoms (View more)
Custom Typography
13 Predefined header layouts
Unique Section Variations
Unlimited Positions & Colors
Powerful Template Settings
Advanced Typography Options – Google Fonts
Custom 404 Page and Offline Page
Custom CSS/JS Code fields
Cross-Browser Support
and much more.
Absolutely free template setup like demo site for all customers, just purchase the template and send us a support ticket our support team handle the quickstart package installation.
If you need support, please send us a message using the contact form or Ticket System (Pro Customers).
We usually respond to support requests within 12 hours on weekdays. Support request sent during weekends/holidays will be processed on Monday/the next business day.
---
Choose Your Edition
Free access product updates
Theme Documentation
Basic Theme Features
Free Gantry 5 Particles/Atoms
Download quickstart package
Customization Support
Free access product updates
Download quickstart package
Unlimited Theme Features
Technical support: 01 Domain
All Gantry 5 Particles included (Save $49)
Unique Section Variations
Buy Now
Unlimited Website Licenses.
Free access product updates
Download quickstart package
Unlimited Theme Features
Support: Unlimited Domains
All Gantry 5 Particles included (Save $49)
Unique Section Variations
Buy Now
---
Frequently Asked Questions
How and when can I download the product after purchase?

After the payment process you can instantly download the product from the Customer Area section. In addition, we will send you an email receipt with all order and download information, so you can check back any time in the future.

I have paid for my order but not yet accessed to download

Normally, your order will be created automatically upon receipt of a successful payment. There are some cases that your payment is NOT SUCCESSFUL and we have to review and process download information manually. Please Contact Us with a proof of payment (Payment Receipt or Order number) in Inquiries and Payment section

Can I remove the copyright information?

Any visual copyrights, for example the copyrights in the theme footer or theme name, can be removed/changed. But it's not permitted to change or remove the copyright information in the source code.

What can I expect in updates?

You will get any improvements, new features and bug fixes we make in the templates/particles as free updates.

Can I use your products on multiple websites?

Yes, you can use our products on multiple websites. However, you can only receive the technical support on as many domains as your active subscription allows you.

What payment methods are supported?

We currently accept payments via 2Checkout and Paypal payment gateway.

What kind of support do you offer?

Technical support through the ticketing system Ticket System or Forum community.

Do you offer refunds?

We offer a refund to unsatisfied customers within the first 14 days of purchase.

Which browsers are supported?

All our products support all recent versions of Chrome, Firefox, Edge, Safari, Opera and Internet Explorer 11.

Are the products working with 3rd party plugins and extensions?

Our products support most 3rd party plugins and extensions. However, it is impossible to know whether all plugins and extensions work with our products. If a 3rd party software you use is not compatible with our products, let us know, and we will inspect it.