Instafeed Particle
18 April 2017

No comments
Display Instagram photos from any non-private Instagram accounts or special TAG. Add beautifully clean, customizable, and responsive Instagram feeds to your website. Super simple to set up and tons of customization options to seamlessly match the look and feel of your site. See how Instafeed can be designed beautifully on
Demo Page
.
# Instafeed Package contents
| Files | Description |
| --- | --- |
| jlinstafeed.yaml | Contains the Instafeed particle settings. |
| jlinstafeed.html.twig | The Twig file to pull information, settings. |
| instafeed.min.js | Contains the Instafeed JavaScript. |
Installation Installing the particle on your website is a really simple process. You can refer to the document here to know more.
Requirements Instafeed requires Uikit 3 for Gantry 5 Atom to be installed and enabled in your theme layout settings.
Go to Template/Theme Settings > select the Layout to add Animated Text particle (i.e: Home) -> Layout tab -> Drag and drop the Instafeed Particle from Particles panel (left corner) to the section you want to display Instafeed.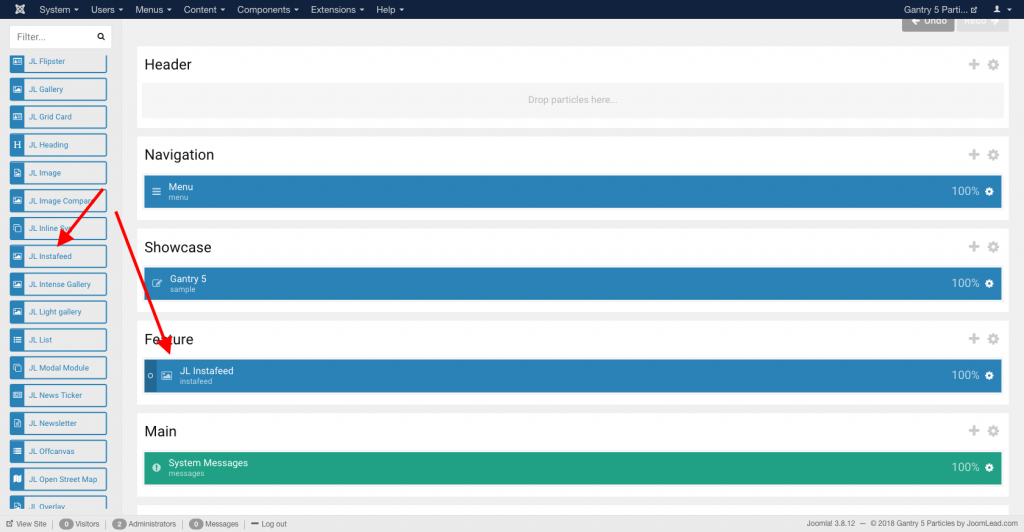 Settings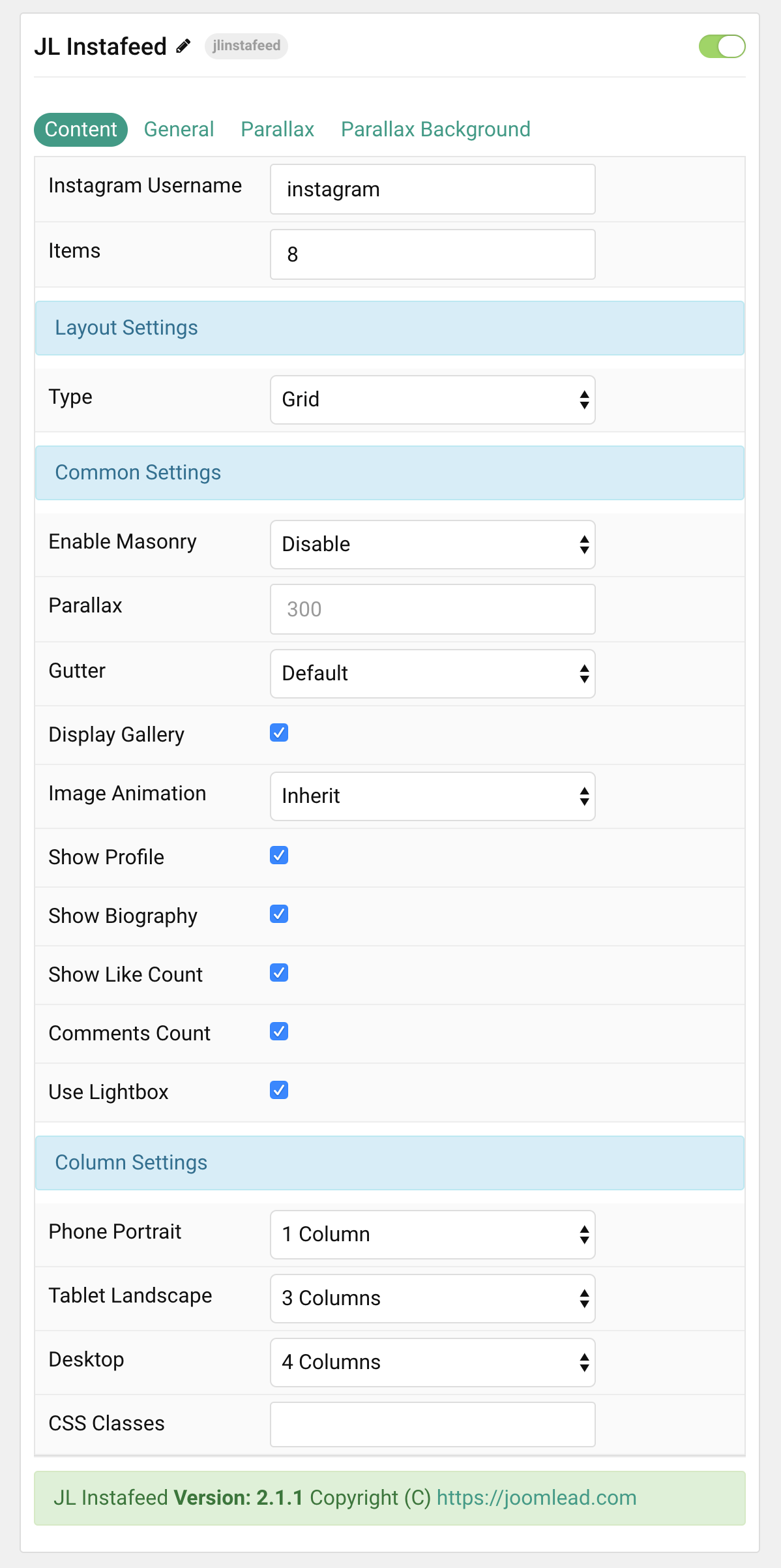 Setting
Description
Instagram Username
Enter the Instagram username to fetch images from.
Items
Number image items to show. Currently support maximum 12 items due to Instagram limitation.

Layout Settings

Content layout for Instafeed
Layout Type
Select the Grid or Slider mode for layout.

Common Settings

Common layout settings for Instafeed.
Enable Masonry
The masonry effect creates a layout free of gaps even if grid cells have different heights.
Parallax
The parallax effect moves single grid columns at different speeds while scrolling.
Gutter
Set the grid gutter width and display dividers between grid cells.
Display Gallery
Display Instagram Gallery.
Transition
Select an image transition.
Show Profile
Display Instagram profile image.
Show Biography
Display biography profile text.
Show Like Count
Enable this feature to shows Number of Likes.
Comments Count
Enable this feature to shows Number of Comments
Use Lightbox
Using lightbox mode when clicking on images.

Column Settings

Common settings for Columns
Phone Portrait
Set the number of grid columns for each breakpoint. Inherit refers to the number of columns on the next smaller screen size.
Phone Landscape
Tablet Landscape
Desktop
Large Screens
General, Parallax and Parallax Background tab
Please take a look the documentation here for more detail about these tabs settings
Video Tutorial