Getting Uikit3 for Gantry5 up and running takes no longer than a minute.
Our Gantry5 Particles/Atoms are based on the front-end framework UIkit. Uikit is a lightweight and modular front-end framework for developing fast and powerful web interfaces.
Installing the "UIkit3 for Gantry5" atom on your website is a really simple process. You just need to follow the below instructions depending on the platform you are on.
---
Requirements
Most JoomLead's Gantry5 Particles/Atoms are based on Uikit3 Framework. To get started right away, we recommend these first steps.
Important Starting from version 2.0.2, we changed the prefix from uk to jl. This even allows to use multiple versions of UIkit alongside each other.
Package contents
The Zip file contains the compiled CSS and JavaScript files, twig and yaml files, which is everything you need to get started.
| Files | Description |
| --- | --- |
| jluikit.min.css/jluikit-rtl.min.css | Contains the UIkit CSS and a right-to-left version. |
| jluikit.min.js/jluikit-icons.min.js | Contains the UIkit 3 JavaScript and the Icon Library JavaScript. |
| jluikit.yaml/jluikit.html.twig | Contains the Uikit 3 Gantry5 atoms. |
Joomla Installation
Step1
Unzip the particle package.
Copy jluikit.html.twig and jluikit.yaml from particles folder to THEMENAME/custom/particles
Copy jluikit.min.js/jluikit-icons.min.js from js folder to THEMENAME/custom/js folder
Copy jluikit.min.css/jluikit-rtl.min.css from css folder to THEMENAME/custom/css folder
Step 2
Enable Uikit3 Gantry5 Atom via template configuration. Go to Joomla administrator -> Extensions -> Templates -> select your Gantry5 template/theme -> choose Base Outline then click to Page Settings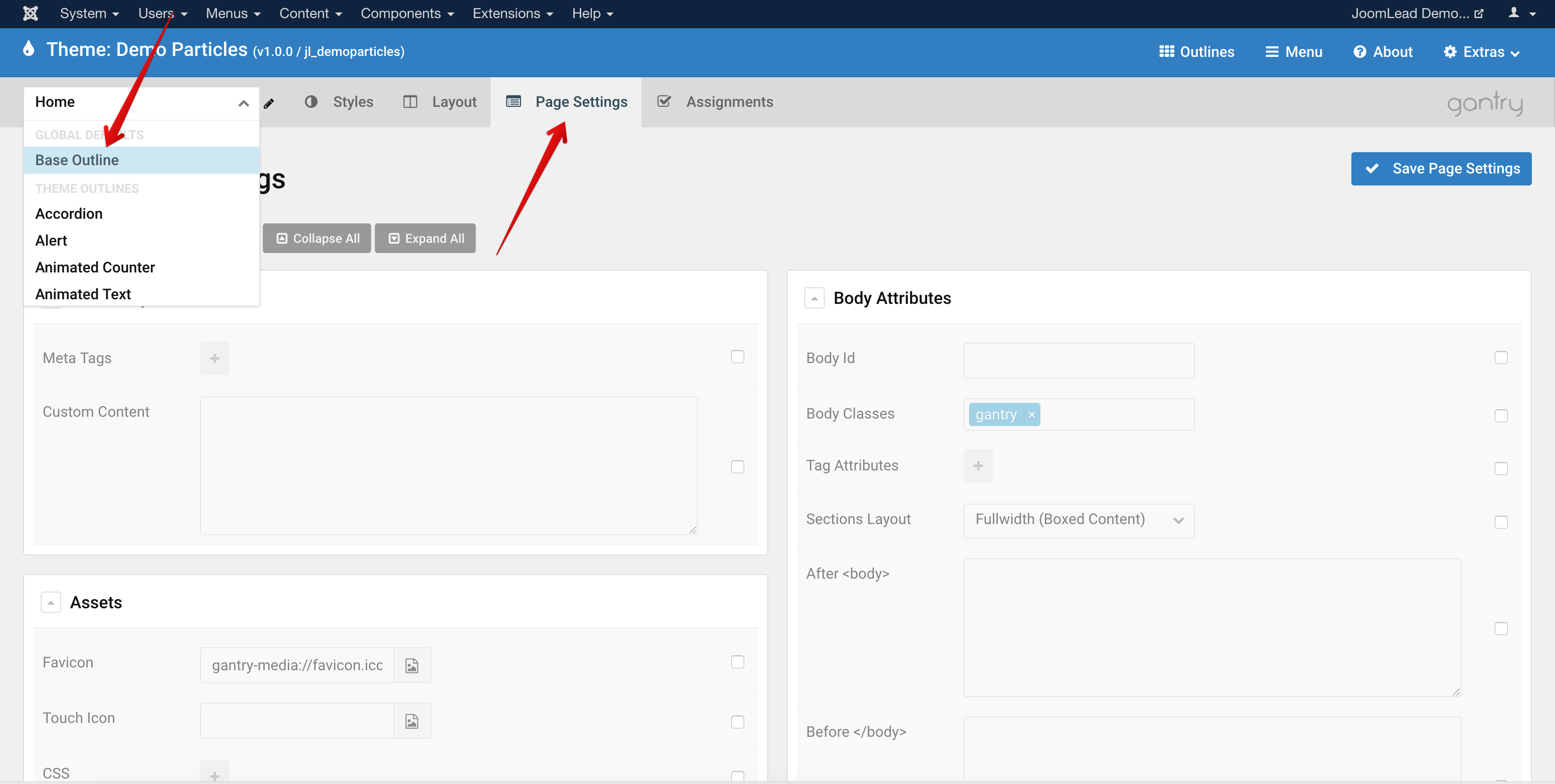 Scroll down to Atoms section -> select
Uikit3 for Gantry5
then enable it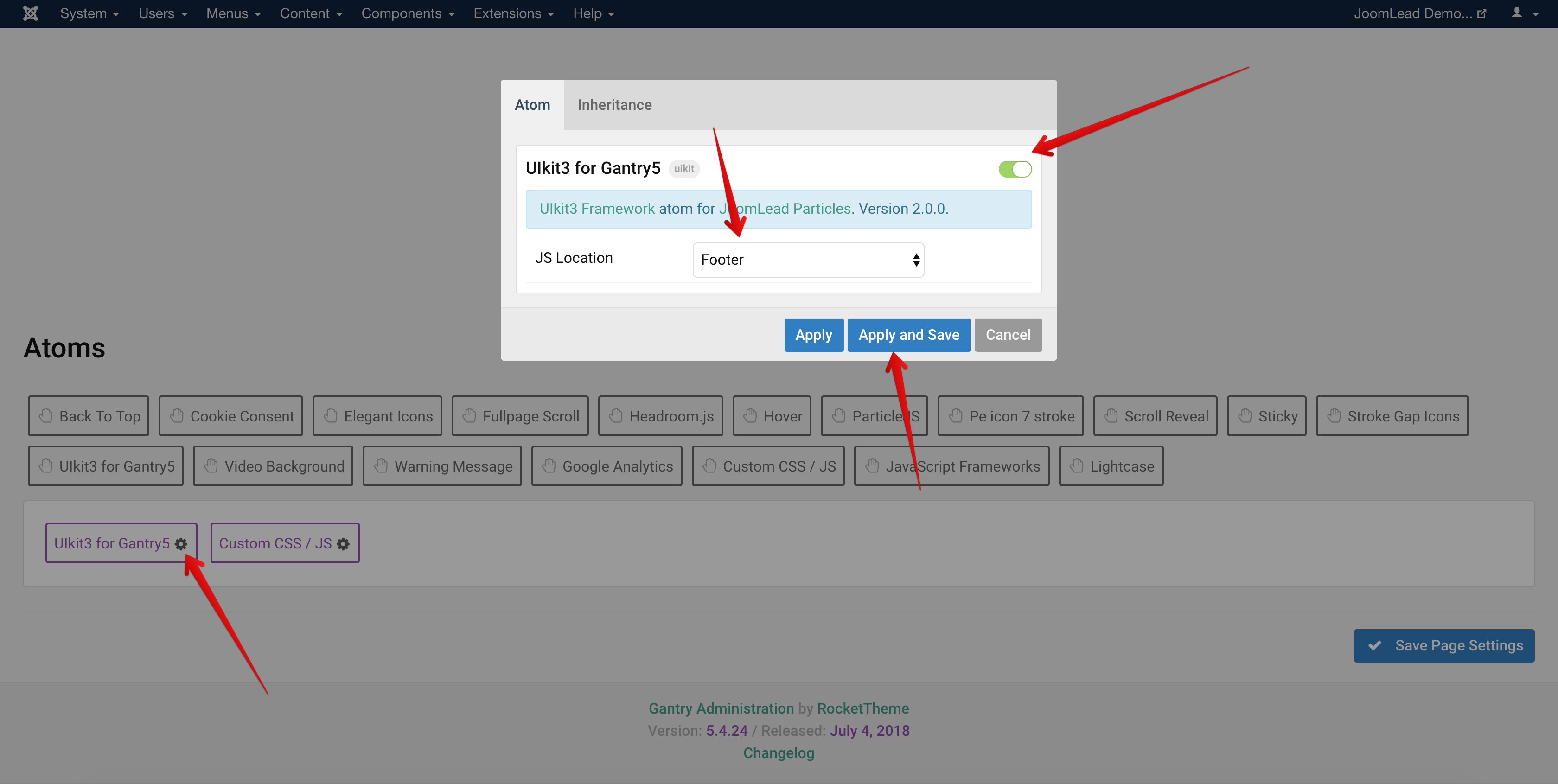 WordPress Installation
Step1
Unzip the particle package.
Copy jluikit.html.twig and jluikit.yaml from particles folder to THEMENAME/custom/particles
Copy jluikit.min.js/jluikit-icons.min.js from js folder to THEMENAME/custom/js folder
Copy jluikit.min.css/jluikit-rtl.min.css from css folder to THEMENAME/custom/css folder
Step 2
Enable Uikit3 Gantry5 Atom via theme configuration. WP Dashboard -> Appearance -> Themes -> Select your Gantry5 based theme -> choose Base Outline then click to Page Settings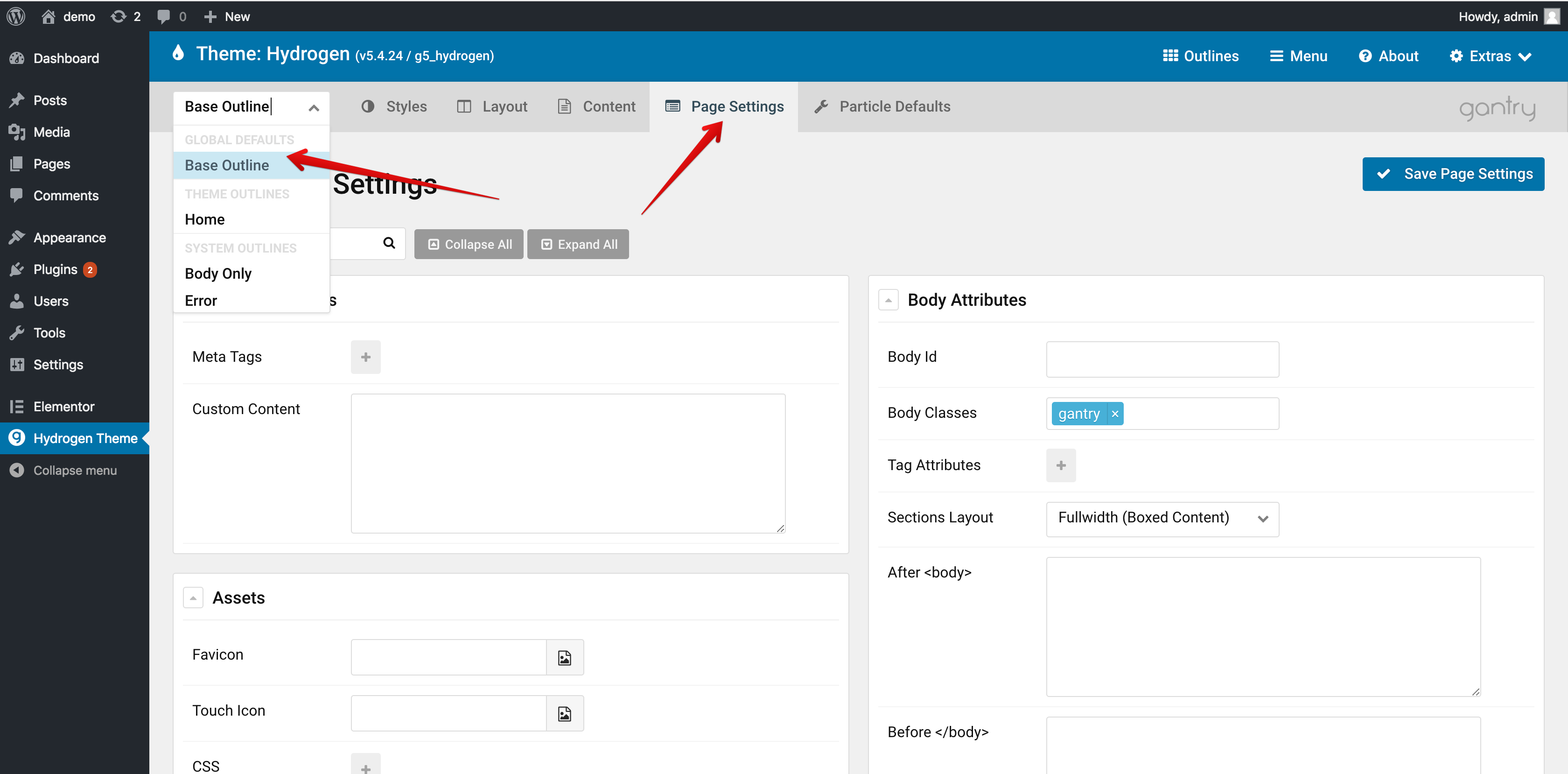 Scroll down to Atoms section -> select
Uikit3 for Gantry5
then enable it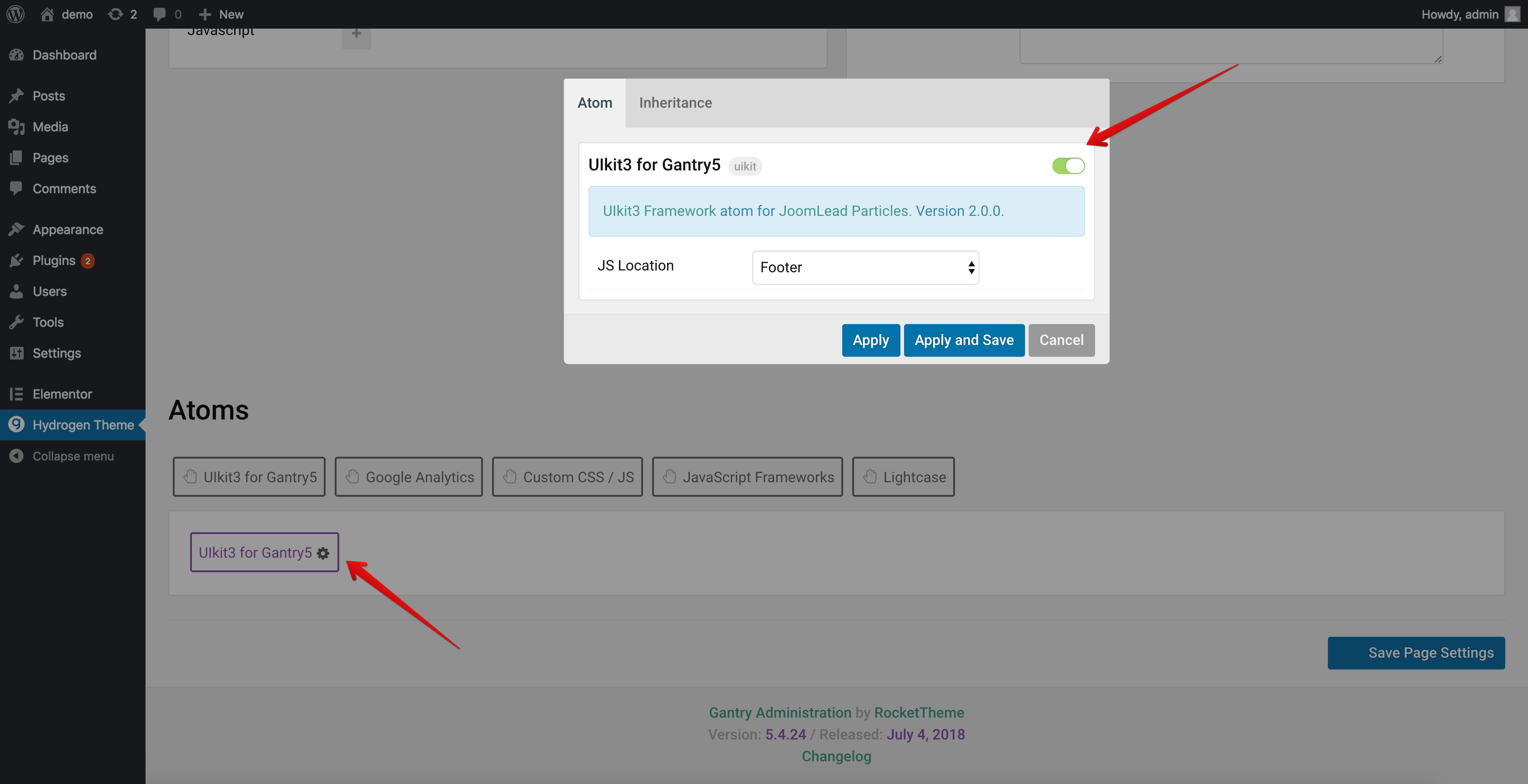 Video Tutorial
This tutorial shows you how to install the Uikit 3 Gantry 5 atom for Joomla, you can do the same steps for WordPress CMS
That's it! Now you should be able to use the particles that built with Uikit 3. For more info, please take a look the Particle documentation
here