Template Details

Version: 2.0.6
Gantry Framework: 5.5.16
Layout: Fully Responsive
Compatibility: Joomla 3.x/4.x
Released: February 15, 2017
Last Updated: September 05, 2023
Changelog: 2.0.6
xHands Changelog
2.0.6

^ Gantry 5 particles 2.2.7 updated
^ Uikit Css/Js framework updated to 3.16.24
+ Joomla 4 Quickstart updated

2.0.5

# [a11y] Table header for articles category list (J4 html override)
^ Gantry 5 particles 2.2.6 updated
^ Uikit Css/Js framework updated to 3.16.21

2.0.4

# Menu issue with PHP 8.1 fixed
^ [4.3] Use the Web Asset Manager #38328 (Html override)
^ Gantry 5 framework 5.5.16 updated

2.0.3

+ Added search icon for smart search module
+ Joomla 4 Quickstart updated
+ Fixing URL to contact VCF [com_contact]
^ Gantry 5 particles 2.2.5 updated

2.0.2

# Joomla 4.2.7 Quickstart updated
^ Html override: Implement short array syntax (#39616)
# Menu line height not being applied
^ Gantry 5 particles 2.2.3 updated
^ Particles accessibility improved

2.0.1

# Joomla 4 Front-end editing improved
^ Joomla 4.2.0 Implement TwoFactor Authentication for Login module
^ Joomla 4.2.0 Implement TwoFactor Authentication for User profile(Editing mode)

2.0.0

^ Fully compatible with Joomla 4
+ Joomla 4 Quickstart Added
^ Joomla 3 Quickstart Updated
^ Layout redesign.
^ All Pro particles included.

1.0.5

^ Joomla Quickstart updated to 3.10.2
^ Compatible with Gantry5 5.5
# General bugfixes

1.0.4

^ Latest Joomla 3.9.3 compatibility and bug fixes
^ Gantry5 framework updated

1.0.3

# Responsive issues fixed
^ Joomla 3.8 quickstart package

1.0.2

# General bugfixes & layout design refinement

1.0.1

– Remove redundant js/css code
# General bugfixes & design refinement

1.0.0

Released the initial version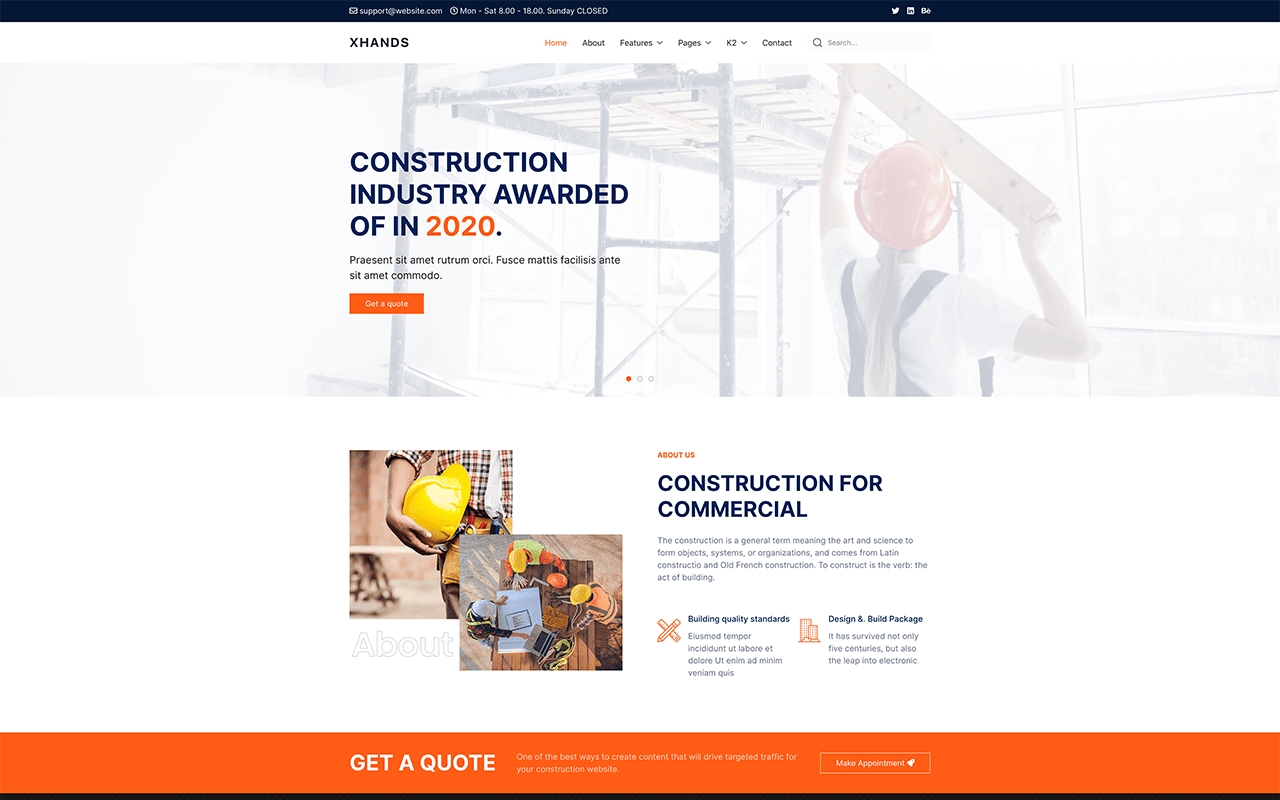 Xhands is multipurpose Construction Joomla Template suitable for any Construction, business or corporate websites. Easy to use & customize, design & code quality, responsive theme, Xhands is based on Gantry5 framework.
Construction Joomla Template Features:
Fully compatible for Joomla 4
11 Predefined header layouts
Built on Gantry 5 Framework
All PRO Gantry5 Particles and Atoms (View more)
Custom Typography
Unique Section Variations
Extended style for K2 (J3 only)
Unlimited Positions & Colors
Powerful Template Settings
Advanced Typography Options – Google Fonts
Custom 404 Page and Offline Page
Custom CSS/JS Code fields
Cross-Browser Support
and much more.
Absolutely free template setup like demo site for all customers, just purchase the template and send us a support ticket our support team handle the quickstart package installation.
If you need support, please send us a message using the contact form or Ticket System (Pro Customers).
We usually respond to support requests within 12 hours on weekdays. Support request sent during weekends/holidays will be processed on Monday/the next business day.